Posts of Dante
Ordered
: May 27, 2003
Arrived
: July 8, 2003
Type
:
Volks Superdollfie "13"
FCS (Full Choice System)
F-28 (head type)
Eyes
:
*Zoukeimura HG Glass Eyes/Pale Blue 18mm
*Schwarzaugen Eyes (Mac Creative) pupiless, MD Cool Gray, metallics etc. 18mm
Wig
:
Default Platinum Blonde (cut)
Leeke L-061 in Milk
Height
: 61cm
Body
:
SD13 Normal Skin (Old Volks resin tone).
Customizations
:
Sanded, blushed, sueded. Faceup by me.
Personality/story
:
Dante was ordered through the 'Full Choice System" through Rudi of R&D fashion
dolls. At the time I ordered him, you could only order Volks FCS through a
deputy shopper overseas.
I customized the order after the character Dante from the Playstation game "Devil
May Cry" and hence his name! He's pure Dante, toting his Ebony & Ivory guns
as well as his Ifrit gauntlets and sword. Dante's always ready for 'business', but
is also very protecting. Esp. of Ava, who is part of the doll family as well. Dante
is very 'in your face' and not afraid to make himself known as such. He'll take
care of any problem, but usually with action and not words!
Dante 'then':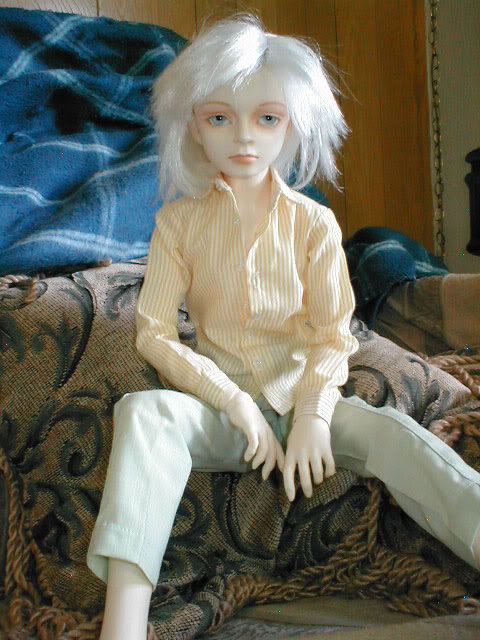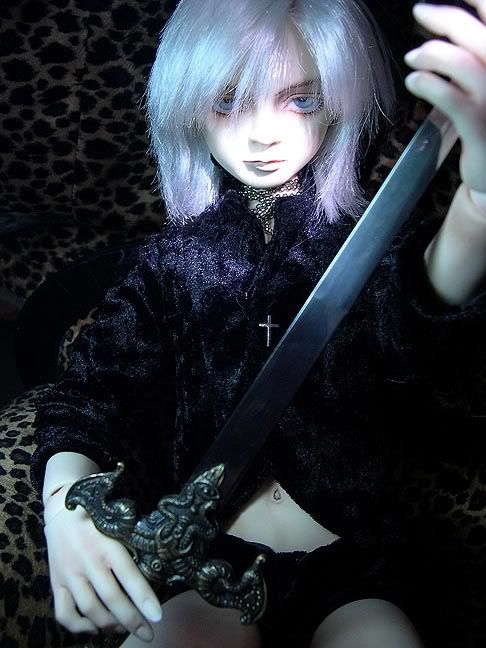 Dante 'now':