Posts of Timoteus V.
Ordered
: February 16, 2005
Arrived
: April 23, 2005

Box Opening Post
Type
:
SA Bermann ("slack afternoon" or half-lidded), Normal Skin
2nd SA Ver. Valentino Le Lys Rouge
(serial no. 21 of 12~22)
Released by Dollshe Craft through Tensiya.
Clothing by Anu.
Eyes
:
Masterpiece Afghans 11mm
Wigs
:
Jpop
"winds" wig blonde/black 9"-10" with modifications
Height
: 70 cm
Body
:
Bermann body --->Tensiya release, which is different from Original Bermann and Hound bodies. Elbows have extra 'caps' to the joints, as well as caps in the shoulder joints, Hounds do not. Knees are the same as Hound releases with just one double jointed knee piece - no extra 'caps' like the Original 2003 release Bermann.
Customizations
:
Sanded, blushed, sueded, wired. Faceup & tattoos by me.
Personality/story
:
Timo is mostly an introvert socially. He tends to display his emotions in his
writing, playing the guitar or acting out in ways that he more than likely will
regret later. He considers
Vincente
like a brother and his only love is
Annalisa.
Timo "then"
(2005 with default faceup from Tensiya):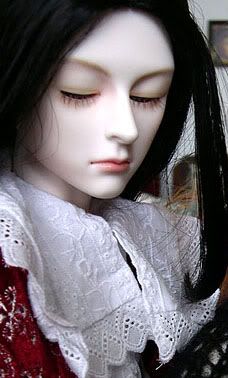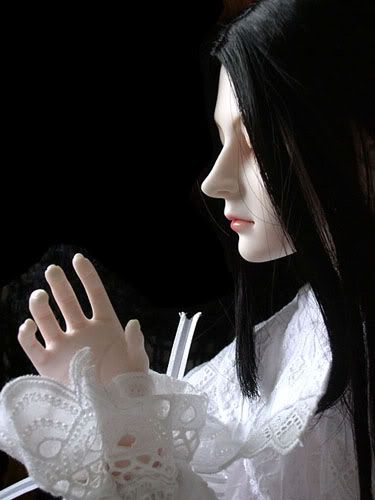 Timo "now"
: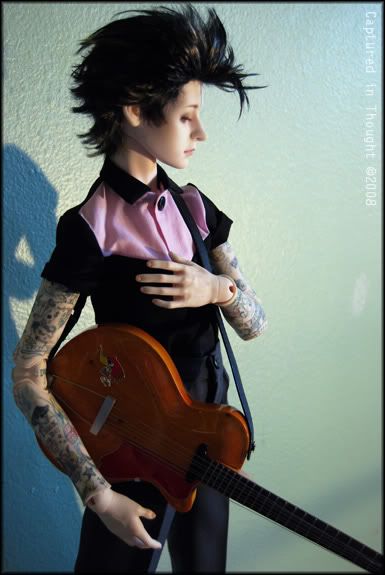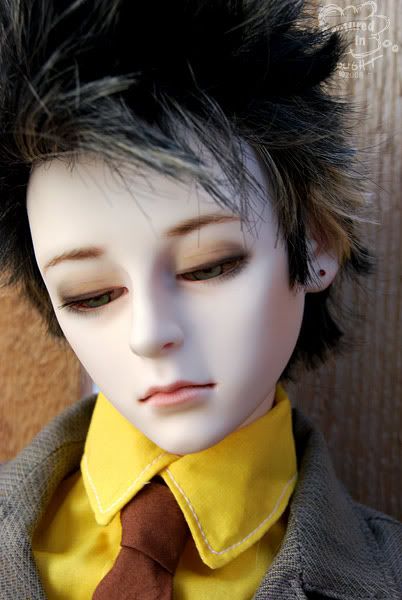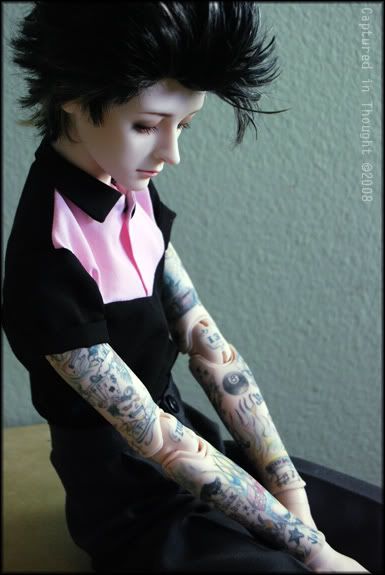 Comparison between Original Bermann &
Tensiya-release Bermann
Head caps
:
Inside heads
:
Thigh joints
:
Knees
(Doll to left has shoes on, which
explains the height difference):
============================
Info on Tensiya Bermann Releases 2005 - 2008
Timo was released through Tensiya run by Anu. He was a part of the Tensiya Bermann Project where Anu partnered with Dollshe and sold 33 SA ('slack afternoon, or lidded eyes) and 77 DO Bermanns (open eyed). Anu styled all of the releases based on different themes which involved clothing, faceups and wigs.
The Bermann Project began it's releases in 2005 with 2 groups of SA's.
(All linked slideshows originally created & posted by Anu on the Tensiya website)

February 2005
:
#1 SA
The Shinsengumi-Kurogatu
(1-11)
(Doll #01 & 11 auctioned, see below list)
#2 SA
The Valentino-Le Lys Rouge
(12-22)

April 2005
(first of the DO Bermanns are released):
#2
Hue-Die-Meng ("Dream of Butterfly")
(12-22)

March 2006
:
#3
Heimdall ("The Guardian of us, and gods")
- (Beauty White) - (23-33)
June 2006
:
#4
Hwarang - The Yoo-shin and the Chun-choo
("Knights of Flower") - (Beauty White) - (34-44) - also offered with this release was the Dollshe Afghan/Afgah as a boy on a Dollshe boy body.

October 2006
:
3 Groups of DO Bermanns were released at once. Buyers could choose to buy more than one if they wished.
#5
Manu ("Forgotten Paradise")
- (Tan) - (45-55)
#6
L'etranger - Le Lys rouge
- (Tan) - (56-66)
#7
Mr. Fogg ("Around the World in 80 Days")
- (Beauty White) - (66-77)
**Additional Commentary Slideshow on Mr. Fogg by Anu**
July 2007
:
#3
(Final SA) Il Milione ("The Description of the World…1299- Travels of Marco Polo)
(Tan) - (23-33)
This doll came with 3 sets of clothing:
style 1) one tunic in silk violet + hat + black pants + shoes + necklace + bag(handy trunk)
style 2) one tunic in brown + scarf + bag + shoes + (black pants are swatching to style one)
style 3) silky, blue Chipao (chinese style) + a pair of pants(white, silk) + hat + shoes
February 2008
:
#1 (Final DO)
Louis Dobermann
(1-11)
This doll came with 2 sets of clothing.
================================
**Commentary Slideshow of Bermann Project Owners by Anu**
- incomplete list though :(
================================
TENSIYA ONE-OFFS
**#1 SA The Shinsengumi-Kurogatu #11 of 11** - KAGEMA - This doll was donated in 2007 to Dollectible for Auction.
**#1 SA The Shinsengumi-Kurogatu #1 of 11**
-
This doll was donated in 2009 to Gogadoll for Auction.